It's that time of the year again and I have no doubt the list of things you would like to improve and accomplish in the new year is long. As a manager, one of the improvements that can have a massive payback on your companies health is to improve the way you report performance to your sales team. Feedback from surveys on Sales Performance Management by WorldatWork & OpenSymetry tells us that for at least 75% of us, there is a tremendous opportunity to improve reporting Sales Performance to your organization. Here are some quick 'take aways' from the survey.
Thirty percent of survey participants highlight providing performance reports to plan participants in a timely manner as a major challenge.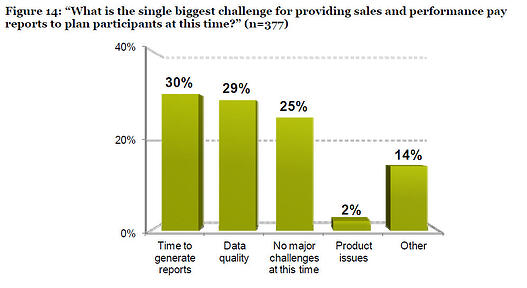 85% of companies take over 2 weeks to generate average turn around time for generating performance reports after the close of a performance period runs
With over 70% of companies only providing two or fewer performance reports, it's very hard to imaging how there is enough detail included to provide full transparency to the field so they can fully understand how they are doing and why.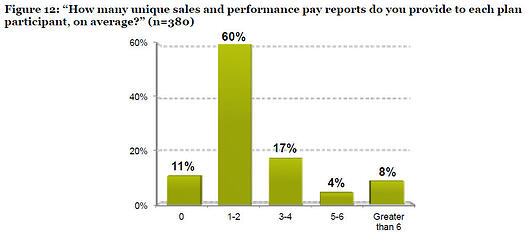 For more detail, I strongly encourage you to check out the complete report for yourself at WorldatWork; http://www.worldatwork.org/waw/adimLink?id=63255
With 2014 upon us, now is a great time for you to refocus your sights on ways you can improve the performance of your sales team. One fundamental way to do this is to provide more timely and detailed feedback to them regarding progress and performance against sales goals. Sales Commission is a critical feedback mechanism that tells a sales professional how they are doing. The timeliness (feedback should be coupled as close in time with sales activity as possible) the and number of reports (indicates depth of information) are two key indicators of good a job you are doing to enable them to focus on
This year resolve to do everything you can to enable your sales team to succeed by taking action to reduce the turn around time of your Sales Commissions Process. Resolve to provide them with reporting that contains enough detail to answer any question they may ask with a mouse click instead of a phone call. Resolve to make 2014 the year your sales team trusts the output of the Sales Commissions Process more so they spend less time double-checking payout accuracy and more time selling.