Definitely Not Your Everyday Product Demo
See how NetCommissions can help You provide your sales organization with breakthrough productivity gains.
NetCommissions Sales Incentive & Commissions Management Software consistently drives improved sales, productivity and profits to those who use it every day. But you're here because you want to know what NetCommissions can do for YOU. So we've crafted our personalized demo to show you exactly how NetCommissions can make your business better!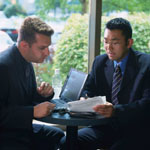 Here's how it works:
Fill out the form on the left and one of our sales comp experts will call you in a couple of days.
We'll discuss and evaluate your current process. What is working as well as what is not.
We'll identify improvement opportunities.
We'll show you how the NetCommissions Sales Incentive & Commissions Management Suite can improve your sales, profits, and productivity on a daily basis as well as over the long term.
We'll demonstrate how NetCommissions delivers ROI of your sales efforts over time.