One of the worst kept 'dirty little secrets' in the Sales Performance administration world is the difficulty in managing the Sales Compensation process in a timely, accurate and yet efficient manner without being derailed by some of the myriad challenges that abound. One of the biggest challenges that rear's its ugly head is the need to wade through the morass of a large number of adjustments every payroll period while simultaneously trying to maintain error free levels of quality and hit payroll 100% of the time. Lets face it, adjustments take many forms and never seem to occur at a convenient time.
How common a problem are adjustments to your Sales Commissions process? World at Work with Open Symmetry recently performed a Sales Performance and Technology Survey with over 460 participants which shed some light on this issue. With almost 2 out of every 3 companies reporting 'Too many manual adjustments' as the biggest challenge in sales compensation administration; the data says that this issue is very common and is probably challenging your business this very day!!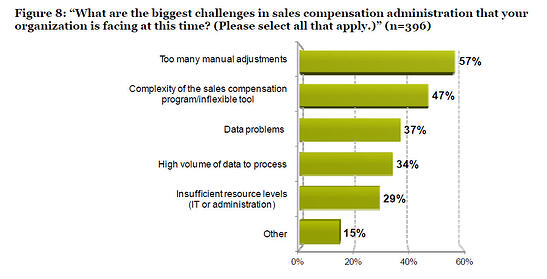 What makes this so much of a challenge (Read: PITA)?
Most systems (Not All) are not designed with the flexibility to handle exceptions & adjustments very well.
Often analysts are the last ones to hear about the adjustment, it comes in last minute, or after a period closes and time pressure is magnified.
The adjustments themselves can cause downstream errors as much of the work is done offline, has no audit trail and is difficult to scale.
Time Consuming. Analysts become mired in the muck trying to figure out things like who else is affected by the adjustment.
Time is a big factor when considering adjustments; they all the time but it is all too common that one of the last people to hear about them is the analyst who has to manage the whole process under some incredible time pressure, calculate the effect of the adjustment and communicate this to those affected. This places high levels of importance on the capabilities and flexibility of whatever Sales Compensation Management system you use.
Adjustments have one other time element that is critical; when do they occur? Are they for the current fiscal period or in a prior fiscal period? Current period adjustments are difficult enough, but when they occur in a prior period, you will need the horsepower of a Best –In-Class Sales Performance Management System to be able to process the adjustment, and calculate the affects of this adjustment to all affected parties in a timely and accurate manner.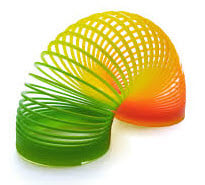 There are a number of identifiable best practices which can transform the need to make adjustments not only bearable, but a core strength of your Sales Performance Management Process. In fact, this ability forms the core of what we define as "Process Flexibility" and is typically one of the largest drivers of ROI for Sales Incentive Management Software projects.
Best Practice Recommendations:
All adjustments should take into account the time period when this change is effective, whether they be in the current payroll time period or a prior one.

Note: If a prior period, the system must be able to automatically calcualte the effects of the adjustment for everyone affected and roll that affect into the current period as an adjustment while maintaining a full historical audit trail.

Use technology that allows your analysts to make adjustments with ease (Read: no IT support needed) and with a full audit trail.

Hierarchy changes should occur effortlessly and allow one to not only modify the hierarchy, but also assignments throughout the hierarchy.

Adjustments to plan rates and ranges should be intuitive and effortless.

Quota changes should be facilitated at any level of granularity required by your compensation plans. By plan, person, and/or plan measure.

Changes to job title, plan and quota and individualized Target Variable Compensation (TVC) should be intuitive

Adjustments to credit should take into account all the variables that help define credit; Account Name, Order Number, Region, Territory, Date Range, Product Family, Product Name, etc.

Credit Split adjustments should account for all the same variables as the credit adjustment described above.
For more insights or a conversation about your process.