Much has been written about the role of Non-Cash incentives as an employee motivational tool. This approach provides tangible rewards that don't directly involve cash as an incentive for achievements that align with corporate goals.
Programs often span functional boundaries and reward people and teams for achievement of measurable goals. Today we'd like to share some insights about the use of these programs within the sales function, although in execution, non-cash incentive programs share many similarities across functional boundaries
In Sales, the use of non-cash rewards has been common practice for a long time. Presidents Club, Achievers Club, Leader Awards are just a few examples of common non-cash rewards that have long been a core element of the sales compensation package. The motivational power of such peer recognition and the admiration and respect that comes with these accolades is far reaching.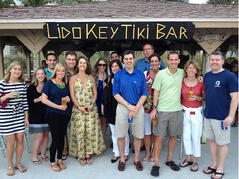 There has been some interesting research done in this arena over the past few years which reinforces the use of non-cash rewards as an integral element of your Sales Incentive Compensation Strategy.
The Aberdeen Group (see Peter Ostrow's research brief on this topic) surveyed 312 Sales Organization on the topic of sales effectiveness and what they found is quite interesting;
The study classified Best-in-class sales organizations as those which measured in the top 20% of the sample base in a number of key sales performance measures.

Best in Class companies were 12% more likely than other organizations to list internal recognition for positive performance as a vital motivator to sales success.
Best in Class companies were 11% more likely to offer verbal praise, 90% more likely to offer public recognition, and 95% more likely to offer peer-to-peer recognition for progress towards goal versus all other organizations.
100% of Best in Class companies offered group travel and 100% offered company sponsored events to recognize year-end sales success.
Best in Class companies were 25% more likely than all others to offer group travel for year-end sales success and 75% more likely to offer company sponsored events to recognize year-end sales success.
Best in Class companies were 50% more likely than laggards to list teamwork as a very important part of the sales process.
Organizations with formal internal sales employee recognition programs had 15% higher team quota attainment and 16% higher customer renewal rate.
Over half of respondents listed non cash rewards and recognition as an important part of sales performance management
As 2013 heads into the home stretch of the fourth quarter, the meaning of your sales ranking reports should come into clearer focus. This is a great time for you and your sales leadership team to reflect on the motivation level of your sales Incentive Compensation Program and ask yourself if you're doing enough to recognize and reward those high achievers who constitute your own top 20% 'Best-in-Class' performers.