Commission splits can be a powerful tool to encourage sales teams to collaborate and reward team based sales efforts. They are common in situations where design and purchasing activities are separated by space and time. A sales rep may be working with an engineering team to get a product designed into a product whose manufacture and/or distribution can occur in a completely different site, state or country.
As with most elements of the sales compensation process, if done correctly a commission split can be a powerful motivational tool for sales & finance managers. Done incorrectly, they can be a painful source of distraction and lost productivity to your customer facing field sales teams.
We've summarized a few Best Practices below to help guide your efforts in developing and deploying this powerful tool.
Each sales manager involved in a sales credit split should be aware of, collaborate and mutually approve of the split and the contribution percentage.
The process of initiating, collaborating and approving a split should be documented.

Ideally a mechanism should be in place to support the process from a forms, workflow and audit trail perspective.
The use of Spreadsheets and e-mail is still the most common method of administering this process, but look for opportunities to automate wherever possible, this is especially critical in situations where dispute resolution crops up and can be a major headache to all involved.
Have a dispute resolution process in place; ideally a documented dispute resolution policy would guide actions in these situations.
Treat situations of credit over-allocation (total sales credit for a transaction > 100%) as an exception that should require buy in and approval from executive sales management and/or finance (Controller/CFO).

Resist as much as possible the temptation to over-allocate commissions, this is a practice that can quickly become a very bad habit and distract sales from custom facing activities to chasing points on split deals.
An interesting piece titled "Using the 'IMPACT' Sales Eligibility Tool to Decide Who Gets a Piece of the Pie" by Summer F. Barnes and Jonathan Minor over of Sibson Consulting touches on this topic. While their work focuses on credit eligibility by position and role, it can also be used to guide discussions regarding credit split allocations. They introduce a tool called the 'IMPACT Sales Eligibility Tool' that can be quite useful in credit allocation discussions common with commission splits. Sales executives may find that if they substitute the word person for position; the tool becomes very relevent to commission split discussions.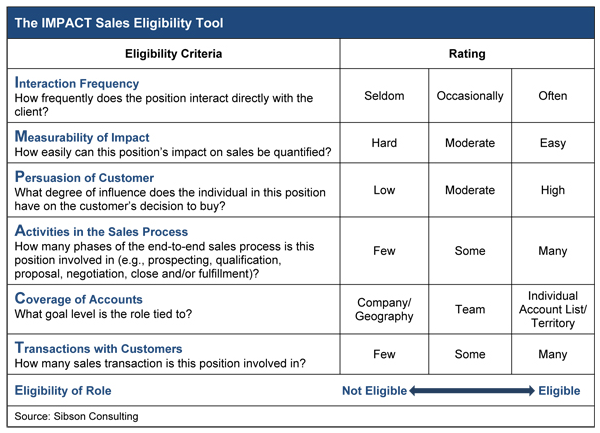 As with any process related to sales compensation, simplicity is your friend. Seek clarity and avoid complexity if it leads to confusion.