The time it takes from the close of a performance period to the payment of sales commissions one of the biggest factors that influence the strategic impact of your investment in sales commissions. We recommend that business leaders think about sales commissions the way they would a capital investment. How much is being invested and what benefits are is the business realizing.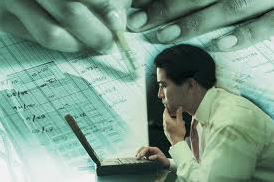 Lots of activities need to occur once the performance period closes in order for the payouts to be accurate and reflect each contributor's efforts;
Financial data needs to be generated, validated and prepped for the processing,
Credit assignment, exception rules as they apply to crediting, roll ups, etc need to be processed.
Retroactive adjustments need to be accounted for; what changed in the last few pay periods that you are now just finding out about in the current period (changes to job assignments, plans, quota's, crediting, etc.) It seems like sometimes the sales ops team is the last to find out about these changes !
Plan calculations for the entire organization need to be completed
Reports need to be generated and circulated for review and approval.
With so much going on, it is important for process owners to not lose focus on cycle time as such an important metric for Sales leaders, CFO's and analysts to monitor. Why you may ask…. Well the answer is grounded in basic psychology and is one of our Best Practice guiding principles: Couple action and reward as closely in time as possible.
Have you ever wondered how long most other companies take to close commissions at the end of the performance period?
Well, we came across two studies which shed some light on the topic;
The first, from Open Symmetry, with an impressive 429 respondents shows the following;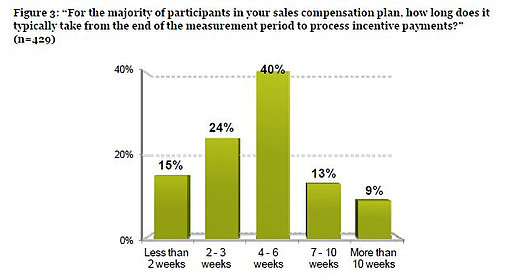 Some interesting observations;
Only 15% of the companies can process commission payments in 2 weeks or less. (This is a target best practice that we at NetCommissions work hard with our clients to meet).
62% of the businesses out there take 4 weeks or longer – too many take up to 10 weeks or more !
Another recent survey on Linked-In reinforces these results;

Some interesting observations;
46% of the business can execute this process in a month or less
52% are over 4 weeks to process, with 33% taking 12 weeks or more !
Conclusion:
If you are not able to process commissions in 2 weeks or less, you are clearly not alone but also have plenty of room for improvement. Our customers have found that investments in technology, such as NetCommissions, that focus on automation of each element of the process - from data management; to credit assignment; to Prior Period Adjustments; to calculations; to report generation and payout approvals - can minimize administration and manual number crunching to such a degree that performance review, discussion and collaboration become the driver of their process cycle time.
Without NetCommissions;

...

...

...
With NetCommissions >>>