Sales Incentive plans (as opposed to a commission plan) reward sales reps for goal attainment. Should you base the goals and performance measures you want your reps to work towards on Revenue or Gross Margin. There is no correct answer to this question, but careful consideration of three best practices should lead you in the right direction.
THE fundamental Best Practice when it comes to sales comp plan design is to put together plans that ensure goal alignment throughout the sales organization and make sure they are structured in a manner that aligns with corporate goals and objectives. No business goal is more universal than profitability and few measures reflect the probability of profitability than Gross Margin. So why aren't all plans based on Gross Margin …. Well this is where it can get very interesting.
A couple other Best Practices that influence matters quite a bit are:
Each sales rep should have a direct causal relationship with the plan measures that make up their plan. This cause/effect linkage between their behavior and reward suggests that the sales rep needs to have control over critical variables on which their performance is being measured.
Each Sales rep should have their commission payments supported by a line-of-sight visibility to line item / transactional level detail for each order that drives their performance.
Timeliness can have a dramatic affect on the success of a sales compensation program, Action and reward should be couple as close in time as possible.
Simplicity: if plans or individual plan measures get overly complex, sales reps can lose focus. Additionally, they can drive excessive administrative workloads as well. In short, wherever a tradeoff needs to be made; strive for elegant simplicity over complexity.
Accuracy: The effectiveness of Sales compensation plans as a motivator often depend on accurate picture of performance as is reflected in the accuracy of payouts.
First, let's set the table with a little accounting and define what we mean by 'Gross Margin' simple put: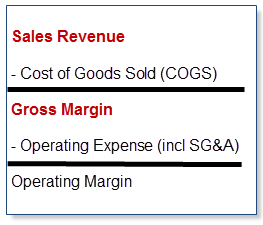 Now, with a few best practices listed as a reference, let's look into a few of the key considerations that should go into your plan measure decision:
Often the driver of a Gross Margin based plan is the desire to encourage front line sales reps to autonomously defend value, price and limit the use of discounting as a sales tool. Is building an incentive plan focused on Gross Margin the best way to manage discounts?
A question that often comes up in this discussion is whether a management policy (i.e. any discounts greater than 10% must be routed through a predefined approval process & workflow) would accomplish the same goal. In short, it would but the idea of building this performance measure into a sales comp plan is to empower the sales rep to act with a high level of autonomy that is fully aligned with the company's goals.
Research highlights the tremendous impact a 1% improvement in price can have on profitability - on average a 10% boost! To help your sales team, consider a product portfolio approach where the sales team can offer different product levels based on a prospects perceived value point (Silver, Gold or Platinum edition) as a means of meeting customer prices pressures without resorting to destructive discounting.
The focus of a Gross Margin based plan boils down to transactional profitability. Discounts are one variable that determine a transactions profitability, but equally Important is each transactions cost.
What level of visibility do you have, and can provide on demand to sales reps, to the cost elements of a margin discussion. Can this cost data be provided at the transaction level of detail for each order?
Does the sale of your product / solution involve a complex sales cycle? If so, does your COGS really reflect the cost of the deal or is there significant cost buried in SG&A operating expenses? Many high tech sales cycles can cover quarters, involve a broad key account team full that includes Sales Engineers, Application Engineers, Key Account Managers and Executive level involvement in the sales cycle.
For most, the problem typically is not tracking revenue or discount at the transaction level, it is tracking cost at such a granular level. Can margin be accurately tracked and reported on at the transactional level? Why is this difficult? Cost is a difficult measure to fully understand and appreciate; Marginal Cost is not always a constant and Standard Costing is by definition inaccurate - for sales reps to connect action and reward, they need to have direct influence over those variables their performance is being assessed.
That said, here are a few examples where costs are stable, predictable, fully understood and often tracked at a granular enough level to support the Best Practices discussed. Channel Partners, Resellers, Wholesale Distributors, Staffing Firms, any sales channel where your costs are predictable and primarily constant.
Other Considerations;
Those with much less predictable cost structures often include sales with a professional services component. Imagine selling a professional services deal where you're going to pay commission based on Gross Margin when the COGS will not be known until billing for the project is tallied.
Margin is often associated with profitability, but is it Gross Margin you should be focusing on? or operating margin? or contribution margin?. There are situations where contribution margin may be more important to fulfilling corporate goals than rewarding a deal based on Gross Margin.
While Gross Margin is a measure that closely aligns with corporate goals, the ambiguity of cost may ultimately be the driver of many decisions to build Sales Incentive Compensation Plans based on Sales Revenue.