The vast majority of companies that are considering the use of a Sales Performance Management tool such as NetCommissions use an accrual basis of accounting as opposed to cash accounting. Accrual accounting requires that primary expenses, such as sales commissions, must appear on the income statement in the same period that the sales is reported, no matter when the commissions are actually paid.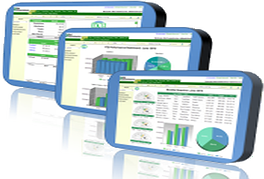 This potential discrepancy between when the sales commission expense is incurred and when it is paid drives the demand for SPM systems like NetCommissions to produce accrual reports in order to provide an accurate read of expenses associated with recognized revenue during that particular time period.
Even though commission payouts to the sales force often occur in a different fiscal period than the sale and drive the need for a robust set of accrual reports. The process of making sure any and all sales commission expense is reported and recorded in the same period as the when the revenue is recognized and recorded is consistent with Accountings 'Matching Principle'.
Using a Sales Compensation Management tool like NetCommissions ensures that even the most complex set of sales crediting scenarios and incentive compensation plans can be processed quickly and accurately providing financial analysts with robust accrual reports.
The process is fairly straightforward and generally follows a sequence: similar to the following;
Once a fiscal period closes, reports/data feeds with associated transactional data supporting the revenue generated during that period are generated. These reports typically include invoices at the account/line item level.

Within NetCommissions, sales crediting is often performed during processing within the crediting module. For some organizations with straight forward crediting rules, sales credit may be assigned during order entry. In such cases, the credited sales person may be identified on the invoice report.

The Invoice report (possibly in conjunction with several other reports/feeds) is then uploaded and processed.

Within NetCommissions, the next step typically involves a "Trail Post" where transactions are processed and commissions for all segments of the hierarchy are calculated.

The trial post (In this case, a "trial post" means executing a calculation of sales commissions based on the most current set of data in the system. As a 'trial' set of data, the period is still open for future processing as changes to the system dictate) is the basis of the Sales Accrual reports which detail the sales commission expenses driven by sales booked to the income statement for that period.

As part of the 'post' process, reports are generated with refreshed data & results.
The refreshed reports typically include accrual reports that can be used to compliment your financial accounting process with a very accurate set of expense accruals for the entire sales organization.