Those of us who sell, or are involved with administering the sales commission plans of, service based products such as SaaS software and/or Professional Services know them to be, well, unique (to say the least). Sales compensation plans for these product types always seem to vary from company to company and never seem to be as easy to manage as they should be.
That said, there are some common theme's to keep in mind when setting up and administering services compensation plans - utilizing some of the best practice guidance below can ensure you don't get sidetracked working issues off line and getting pulled into a monthly activity trap while helping you keep your focus on high impact contributions to your teams success
Service based sales plans are fundamentally no different than other types of plans, we all hope every deal progresses through the sales pipeline from initial contact to close and with the ultimate aim to compensate reps for actions aligned with corp goals. What's interesting with services type plans is how many different variations exist among these plans. Performance measures often not only tie to specific milestones of each contract (such as Booking, Shipment, Invoice(s), cash collection, and revenue recognition) but are often also interdependent as well, (i.e. pay half on booking and the other half on cash receipt, etc. etc. etc.).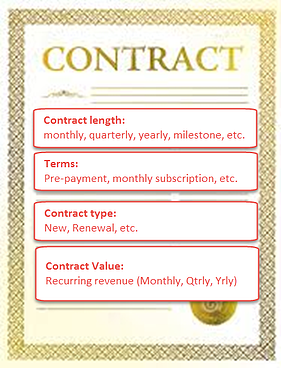 Challenges:
Credit Assignment & Reassignment over the life of the contract. A sales rep gets credit for a multi-year contract but leaves the company soon after the close, how is sales credit for the remaining years on the contract going to be reassigned? How are you going to do this reassignment within your system?
Automated processing of contracts. How is the contact data going to be managed? Will the system automatically parcel contracts into smaller chunks based on milestones and performance periods or will the user be forced to do this offline manually and feed this info into the system piecemeal?
Connecting the dots with interdependent measures; if bookings and shipments or cash receipt are linked, how is this going to occur? Is it processed automatically or does this require special workarounds?
Retro-active credit adjustments; A sales rep was told that they get credit for all services sales to a key account but the compensation administrator finds out three months later, what now?
Best Practice Guidance:
Automated handling of contracts within your SPM system

so they can process correctly for each performance and pay period throughout the contract life. This typically means generating properly credited transactions for each pay and/or performance period through the life of the contract automatically within the system without requiring the analyst to manually generate them or feed them into the system for each period of the contract. A system which automatically generate transactions for the life of the contract and reference them at the proper performance period in the future is invaluable and the essence of process automation, efficiency and best practice.
For those situations which require

reassignment of credit for a services contract

within the sales organization, your sales compensation automation solution should provide for that in an easy to use manner and NOT require the analyst to handle these situations off line and outside your sales comepnsation system.
When working with dependent plan measures such as associating a Booking and Invoicing plan measure, be sure complex situations such as partial invoicing over time is accounted for in a fashion that does not require a manual 'work-around'.
Sales Compensation systems that embrace best practices MUST support situations which require retroactive adjustments. Simply stated, anything less is an incomplete solution.
Good luck selling and stay tuned for more Best Practice Guidance for those involved with setting up, overseeing and administering the sales performance and compensation process.
For a good read, check out the following .....