With New years Resolution #1 aimed at improving the clarity with which you report and communicate sales performance to your sales and executive teams, it makes sense to be sure that the results and data which we are communicating are as accurate as possible.
What is clear from not just our own experience but from survey data as well is that the accuracy of payment calculations is not where it needs to be, in fact its not even close. The chart below, from a recent survey on Sales Performance Management by WorldatWork & OpenSymetry, tells us that almost 75% of practitioners calculating commissions think they are less than 99% accurate while a staggering 18% consider themselves to have error rates of 5% or higher.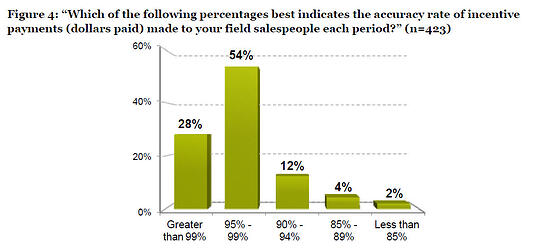 Calculation inaccuracies have far reaching ramifications whose costs extend far beyond the hard dollars lost to over-payments.
Sales reps who lack trust in the accuracy of their commission check will spend up to 5% of their time 'shadow accounting'. The time spent tracking their own performance and performing side calculations of what they think they think they should be getting paid is crippling; 5% of a sales persons time adds up to a full work day each month !
Underpayments of commissions (and the less frequently reported over-payments) are a source of inefficiency which clearly drives Operating Expenses in the wrong direction.
Addressing the core drivers of sales compensation inaccuracies can have payoffs far beyond any expense incurred addressing this issue.
Improved Top Line Revenues
More time selling = higher sales productivity
Improved Strategic Alignment throughout the sales organization
Reduced turnover
Reduced Operating Expenses
Reduce Underpayments

Reduce Overpayments

Reduce time required to manage the process
In short, improving the accuracy of your commission calculations in 2014 will deliver more productivity to your sales force through vastly improved levels of trust in the process as well as to your sales/finance team through time savings due to much high levels of process quality. If you are involved in sales compensation at all, focusing on this goal is just 'the right thing to do.'