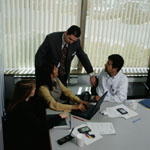 An investment in Sales Performance Management is intended to deliver on the promise of increased performance, productivity and profitability. While it is true that NetCommissions will deliver on improvements to the timeliness and accuracy of performance feedback to sales, how each company achieves that goal may differ dramatically. Often, staffing strategies will vary greatly from firm to firm based on how each business chooses to focus scarce resources on the multitude of processes critical to their core competencies.
Many wisely choose to invest in the Sales Performance Management process in an effort to build sales execution into a competitive advantage. Some will do this but partner with vendors such as NetCommissions to provide administrative support for the process.
Here are a few of the leading reasons for that decision;
Critical technical skills are only required sporadically (annually?) when new plans and reports need to be authored tested and implemented.
Critical technological skills such as maintaining the business rules engine, database management or report writing can get rusty due to sporadic use.
At the end of the day, when trained resources are needed the most and plans and reports need to be changed, updated & modified, those same resources are often scarce and in a time crunch. Financial analysts are often busy closing the month/quarter/year just when they are needed to administer the sales comp process.
Sales Compensation can be a high turnover position; Financial Analysts supporting the sales compensation process often rotate to new assignments every 12-18 months causing a need to retrain users every time this occurs.
Resource constraints; growing businesses often ask analysts to support several mission critical business processes. If an option exists to partner with a third party service provider for these skills, internal resources may be freed up to focus attention on other priorities.
Some questions to ask yourself to see if you fall into a category of user who may be benefit by outsourcing some elements of process administration;
Do you have a dedicated role on your sales operations team to support the sales compensation process?
Are those supporting this process on a career track that supports a specialized focus on Sales Performance, or does your support team have more of a generalist/financial analyst orientation?
Is the process administered by financial analysts reporting to the finance department, sales operations or both?