Reporting to front line field sales professionals in a manner that promotes achievement is the essence of Sales Performance Management. It cements the bond between action and reward and reinforces goal alignment within a sales organization that is often geographically disperse and tasked with a broad range of responsibilities.
Reporting with desktop technologies such as spreadsheets has been common in sales teams for a long time now. This approach however, has numerous shortcomings that leave you vulnerable to competitors who are looking to proactively leverage the web as a tool to increase the effectiveness of their sales team.
Here are a few Sales Compensation Reporting Must-Haves that will ensure you are 'keeping up with the Jones' competitively.
Clear presentation of information: Crisp design enables sales reps to quickly see what they got paid and why. Historically, compensation analysts have been so focused on closing the month/quarter/year in a timely and accurate manner that performance reports to the field are often lacking in clarity and focus. This can be a slippery slope that often results in lost time as front line sales pro's wade through hard to understand reports to understand the details that make up their paycheck.
Interactive Graphics: Sales professionals are notoriously graphical thinkers; reports should incorporate interactive graphics at every opportunity. Provide reps with a graphical view of their performance against goals and then allow them to click through to whatever level of detail they desire.
Access to transaction level detail: Eliminate wasteful phone calls by providing reps with the ability to drill down to transaction level detail. With the strategic application of technology, front line sales pro's are provided with actionable information that ultimately will drive trust in not only the results, but your brand.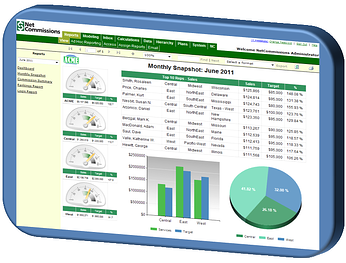 Don't ignore this critical dimension of your process, research this important piece of the performance puzzle as much as possible and continuously take steps to improve it.