Definitely Not Your Everyday Product Demo
See how NetCommissions can help you provide your sales organization with breakthrough productivity gains.
The NetCommissions solution consistently drives improved sales, productivity and profits to those who use it every day. We have crafted our demo to show you exactly how NetCommissions can make your business better!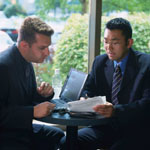 Fill out the form on the left so we can set up a live web demo.

This is also a good time if you have any questions for us. We will be happy to answer any and all questions regarding our solution or sales compensation.

This will give you the opportunity to see our product in action and learn how NetCommissions can help you improve sales, profits, and productivity.